the Norbury Chronicle
Issue XXVI May '02
"Nothing is concealed that will not be revealed." (Mark 4:22)
SIG NEWS
Rather than doing the newsletter in our word processing program and then scanning it to the website, we're trying now to do as much as we can on the website and then copy it to the word processor. It should give a better quality webpage with less memory usage.
You may also notice that instead of Roman numerals for the year we have switched to the ambiguous '02, which can be read either as 2002 or 1902.
LETTERS
O course, in 1902 we did not have e-mail and some nice ones they have been.
From Heather Stewart we received a request for info on the book or books on the son of Sherlock Holmes. I told her about Son of Sherlock Holmes: a Mystery of Two Eras (1977) and by Byron Preiss and Rasputin's Revenge: the Further Startling Adventures of Aguste Lupa, Son of Holmes (1987) by John T. Lescroart (285 pp. Summoned to Czar Nicholas' court by Czarina Alexandra, the son of Sherlock Holmes is put on the trail of an assassin who is eliminating the Czar's trusted advisors, one by one.) and got this ego boosting response:
Dear Norbury Friend,
You are incredible! (Be still my beating heart!) In retrospect, it sounds too easy - "Son of Holmes", duh. But I promise, I drilled several librarians and bookshop owners with their character search tools, etc. Even searched amazon and alibris. Rather than say I must have been totally inept, I'll say that YOU are pure genius! I ran to the library with your new information and immediately checked out "Rasputin..". Unfortunately they didn't have the 1st, "SOH", and didn't see it on eBay, at the moment. Any idea why the author stopped after 2 books?
[That's a good question for SIG members. Since Heather's letter we've discovered addall.com -- see index page affiliates -- which had 391 listings for Preiss and 474 for Lescroart, admittedly multiple copies but still many new books for these authors since the '80s.]
So, to be a cogent member, do I need to read/reread all things Holmes? Are your Chronicles on the web? [What do you say, group? We each have our own special special interests. Holmes needed Watson and the Irregulars and the Irregulars need each other.]
Also, all the SIGs you mentioned [That would be the
Fortean Mysteries SIG
and
Mythopoeic SIG
.] were on my list of "check-it-outs" (though I didn't see Enviromensan). [Alas, it died.] You are into some tres interesting stuff! What kind of webbuilder do you use/recommend? [We're using Trellis, as out index page indicates, but just because it came with the computer package and because it's compatible with our webserver. Does anyone have a better suggestion, someone not so novice?] I like how you organize your sites, say what's going to go where and allow for fill-in later. Much more informative and professional than the blanket "Under Construction."
Thank you so much,
Heather
For previous letters on the Sherlock's son question see the
Norbury Chronicle
7:3, 8:2, 9:3 on the
history
webpage.
BOOKS
The Holmesian books that we've been reading lately however have been the ones we got as Christmas presents: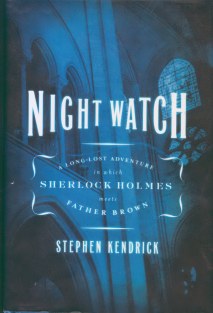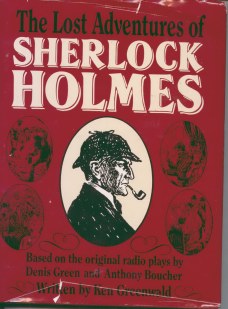 Nightwatch by Stephen Kendrick is subtitled "A Long-lost Adventure in which Sherlock Holmes meets Father Brown" and we think does justice to both an elderly Holmes and a youthful Fr. Brown. As is the nature of a novel there are many plot twists and subplots and red herrings during this long sleepless night, even some surprises, which considering how familiar these two old friends are to us, if not to each other, is surprising. Not to give away too much of the story it involves, not surprizingly,a murder in a church. Fr. Brown is an English translator for an Italian cardinal, one of the strange clerical characters meeting secretly at St. Thomas' Anglican Church.
Besides the narrative itself however is the intriguing prologue: "How I Came to Possess This Document, Including the Last Will and Testament, Codicil, of John H. Watson, M. D.". Kendrick, it seems, got it from his heir, Mary Watson Alston, after he'd written his book,
Holy Clues: The Gospel According to Sherlock Holmes
, (see the
Norbury Chronicle
22:5 in
history
). According to this prologue the dear doctor married his second wife, his nurse, Violet Durcaster in 1903, had daughter Mary by 1908 and died in 1928. Mary in turn passed on in 1999 soon after passing on this long-lost adventure.
The Lost Adventures of Sherlock Holmes are subtitled "based on the original radio plays by Denis Green and Anthony Boucher". Although the old radio shows are available on cassette, as The New Adventures of Sherlock Holmes, we still enjoy reading the stories, preferably in our favorite chair with a cheery fire in the fireplace and the imagined sounds of Merry Old Victorian England penetrating our bay window.
It has an introduction by Dr. John H. Watson explaining that the original edition of this book was small and overshadowed by the outbreak of World War I, then lost for many years.
In "The April Fool's Adventure" in 1881 Holmes recovers Lady Ann Partington's Elfenstone Emerald and meets future archcriminal James "Murphy".
"The Case of the Amateur Mendicants" and "The Case of the Camberwell Poisoners" of 1887, and "The Adventure of the Notorious Canary Trainer" of 1908 (NOT 1895) -- revealing Holmes' collaboration with Dr. John Thorndike (whom Murder Ink: The Mystery Reader's Companion by Dilys Winn calls "a forensic scientist rather than a medical doctor [who] in addition to exceptional intellectual powers, has a profound knowledge of such diverse subjects as anatomy, ophthalmology, botany, archeology and Egyptology. He is also exceptionally handsome.") in the Red Thumb Mark case -- are finally told.
In "The Adventure of the Second Generation" Holmes comes out of retirement in 1909 to aid Miss Irene Norton, the future Lady Weston. We incidentally learn he has a tomcat named Charles Augustus, a manservant, a bothersome neighbor missing the Kitmanjar Emerald.