About Us

When we started Hierogamous Enterprises in June, 1989, desktop publishing was already one of our long range goals, but it wasn't until 1999 that Michael Halm and Razilee Purdue finally finished writing Hierogamous Hymns, our first book and the first edition did not get printed until January 2000, apparently providentially the year of the Great Jubilee!
Michael Joseph James Halm & Fyrball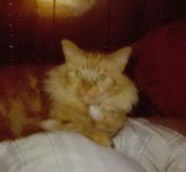 Michael was conceived New Years Day, 1947, born over two months premature, did graduate work in physics, studied education, creative writing and and then sold his first poem in 1975. He has received an honorary doctor's degree from the CLEO Society and a knighthood from the
Militia Immaculata
. He is a lifelong member of
Presentation Ministries
, the lay association which publishes
My People
newspaper, of the
Secular Franciscans
, the first tertiary order, founded by St. Frances of Assisi, and of the
Universal Living Rosary Association
, a worldwide perpetual prayer group. He is coordinator of three American Mensa SIGs, the
Fortean Mysteries SIG
, the
Mythopoeic SIG
and the
Holmesian Studies SIG
. With Razilee he co-authored
Hierogamous Hymns
, the first of
Our Publications
. For other of his accomplishments see his
resume
. For his family history see his
genealogy
page .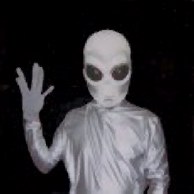 Lemcia Mal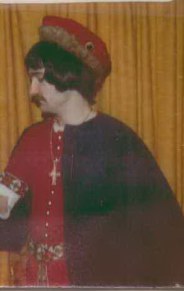 Percival de Toulouse
Percival de Toulouse is the founding father of the shire of
Glengliondrach
, was born in Toulouse, France, in 1215 to crusader Sir Ferdinand de Brittanie and Vivianne of Toulouse, convert from Albegensianism.
Having supported himself as an alchemist's book copier, he was licensed as a Master of Arts at the University of Toulouse, and received his doctorate at the University of Paris.
He became known as Doctor Peregrinabundus because of his extensive travels -- to Al-Azhar (Cairo), Baghdad, Germany, India, Italy, Khanbaniq, Khmer, Lamary, Mabaron, Melibar, Mecca, New Canterbury, Nothumberland, Palermo, Pathan, Polombe, Susa, Toledo.
In A. S. 10 he discovered the world of
SCA
,
traveled across the Middle Kingdom from the Barony of
Northwoods
by way of Myddyn Seren, beyond the region of
Northshield
to
the Endless Wastlands,
where it was said "Here there be Uffda." Near Trollwood he founded the short-lived shire of Glengliondrach from which he lead pilgrimages to and hosted visits from the baronies of
Nordskogen
and
Castel Rouge
. In A. D. 1345, at a well-preserved 130 years old, he became a High Crusader.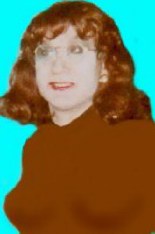 Razilee Mary Purdue
also came into the world rather unexpectedly July 11, 1967, during a troubled time when her parents were talking divorce. They stayed together, but in 1976 she had a brief sexual relationship with a 21-year-old female "friend". She never did graduate from high school. She, like Michael, however did find consolation in the Scriptures -- but especially in a new relationship with Mary as
Mama Mia
. She was first published in 1999 and co-authored with Michael our first publication,
Hierogamous Hymns
, and is the foundress of the unique
Delta Schwa
and the world's only known
André Joyce Fan Club
.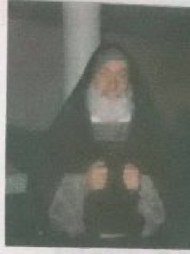 Mikhael Bar-Yosef
was a scribe, a contemporary of Yosef of Arimathea, Gamaliel, Nicodemus, and
St. John
.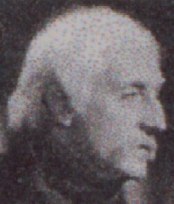 William Christian Sigerson,
or as he was more affectionately called "Billy", was born Nov. 2, 1891, son of Norwegian explorer Wilhjalmar Sigurdsen and Italian circus performer Vittoria Ricoletti, and so destined for an exciting life. He was, as you may have noticed from the photo in the side column, a Basil Rathbone look-alike. Before he finally died in 1996 he had worked as a pageboy in London, a vaudevillian with Mr. E., a field agent for the M. P. Gibson and Lawston Foundations, a tabloid journalist, a barnstormer (presumed dead in 1937 while attempting to fly over the Himalayas). He resurfacing in the 1960s as the Mahanimshi, wrote
'Gimme' Is My Mantra,
founded the Mindak commune, and frequently contributed to the
Fortean Mysteries SIG
and
Holmesian Studies SIG
newsletters.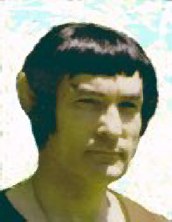 Spiek Dvllnoh
is our resident Surakian and web master of the
IDIC Institute
, but otherwise a rather mysterious character, claiming to have been born on AV 8015 Mit 10 on alpha Zodiaci III.
Others that have contributed to this web site include:
Melody "Mel" Abelha, Alberta "Al" Anz, Humbert Beth, Tania Borealis, Lama Chhem Li, Lana Coperta, Ephrem Smith Corona, Margarita Coronae, Christi Crux, Beth Doa, Aben Ezra, Thomas "Tom" Fika, Gloria Frederici, Faith and Joy Fuller, Nero Gatto, Angelique Gilchrist, Marian Gillis, Thomas "Tom" Hoofd, Anthony Hoya, Isadore, Jesus, Joseph, Rah Kakeshan, Peter "Pete" Kidole, Roberta "Bob" Kabelka, Kathleen "Kitty" Kindle, Kristina "Tina" Kuppi, Gillian Ling, Thomas "Tom" Lomme, Ben Människa, Leo Marinus, Stella Maris, Mary, Hope Messenger, Mikha-El, Nga Mau, Hope Messenger, Alberta "Al" Nahr, Nero Mercato, Sara Mizu, Woz Niebeski, Norma Nilotica, Nero Occhio, Daniel "Dan" Oljuga, Calvin "Cal" Pantof, Clair Peau, Jedidiah "Jed" Pero, Calvin "Cal" Rîde, Frederika "Fred" Rör, Thomas "Tom" Rymd, Kamika Schmidt, Stephanie Schutzengel, Bethany "Beth" Sefer, Dana Sevgi, Hilda Strasse, Daniel "Dan" Svjetlost, Anne Tabiat, Tavola Tafelberg, Tien Ho, Kristina "Tina" Tähti, Benjamin "Ben" Torr, Zesta v'Rim, Karl Wagen, Charles Wayne, Lewis T. Williams and Samantha "Sam" Znowu.